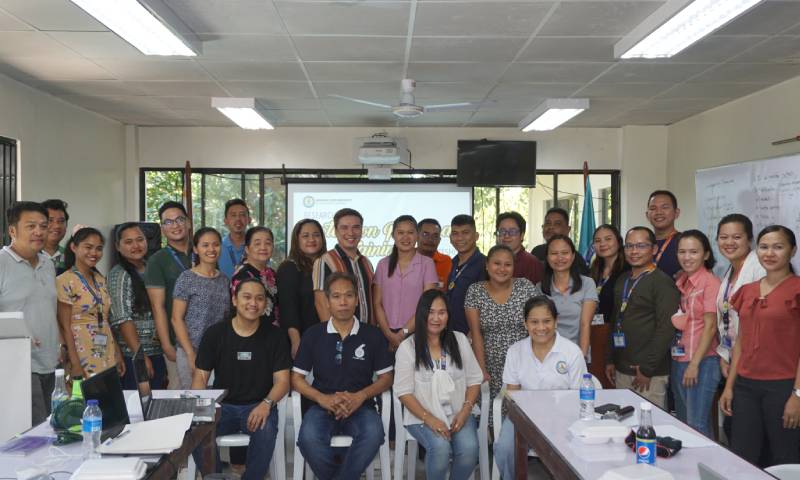 The 3-day extension activity of the Graduate School entitled "Research-based Extension Proposal Training and Writeshop" was conducted on March 22-24, 2023 at the GSU-Baterna Campus Conference Room, Constancia, San Lorenzo, Guimaras. This activity aimed to improve the competencies of the faculty-extensionists of Guimaras State University in writing research-based extension project proposals. This was participated by the extension and research coordinators of the eight (8) different colleges of the University.
Dr. Julius T. Vergara, Campus Director – GSU Baterna Campus welcomed the participants and the resource speakers. Dr. Margie Y. De La Cruz, Director of the Community Extension Services introduced the main resource speaker in the person of Dr. Ricky P. Becodo, Director of the West Visayas State University (WVSU) Extension Development Center. Dr. Becodo is an expert in project proposal formulation, monitoring, and evaluation. He presented and discussed the Program Proposal Project Rationale. Then, Ms. Fe Seta D. Encontro, Head of Training and Capacity Strengthening Section of WVSU presented the Project Objectives and Project Logframe. Also, Mr. Wyeth Ian C. Blase, Head of Planning, Monitoring and Evaluation Section presented and discussed the Project Methodology and Workplan.
The faculty-extensionists of different colleges were very participative during the duration of the training workshop as they presented their final outputs on the last day of the training. The presentation of outputs was a success and fruitful because of the insights provided by Dr. Becodo.
The focus of this 3-day training was on subject-specific and general education that promotes the overall growth of all parties involved. Both researchers and extensionists of the teaching profession of the University were energized and capacitated with the learning insights from the resource speakers. The training gave them the opportunity for continuous professional development – to learn new ways, methods, strategies, skills, and tools.
Prof. Jocyl C. Caber and Instr. Reynro T. Herrera expressed their gratitude and appreciation to the resource speakers as well to Graduate School who spearheaded the activity. With this training, the faculty-extensionists were equipped with necessary skills in making their project proposals that will greatly improve their performance.