The Bachelor of Science in Business Administration (BSBA) and Tourism and Hospitality Management (THM) departments of the College of Business and Management (CBM) held a series of Financial Literacy and Customer Service Skills Training at the 3rd Floor Multi-purpose Hall, Buenavista Municipal Hall. The 9-day training that was attended by approximately a hundred motorcycle drivers per day. This was done on the following dates: March 14-15, 20-22, 27-29, and 31, 2023.
This extension activity was a collaboration not only between the BSBA and THM departments in the College of Business and Management, but also with several agencies from the Highway Patrol Group on Traffic Safety, represented by PMSgt. Kevin B. Aquino, and the Land Transportation Office on Safety Driving and Traffic Laws, represented by Ms. Ma. Asuncion H. Trespeces, OIC of the LTO-Guimaras District Office.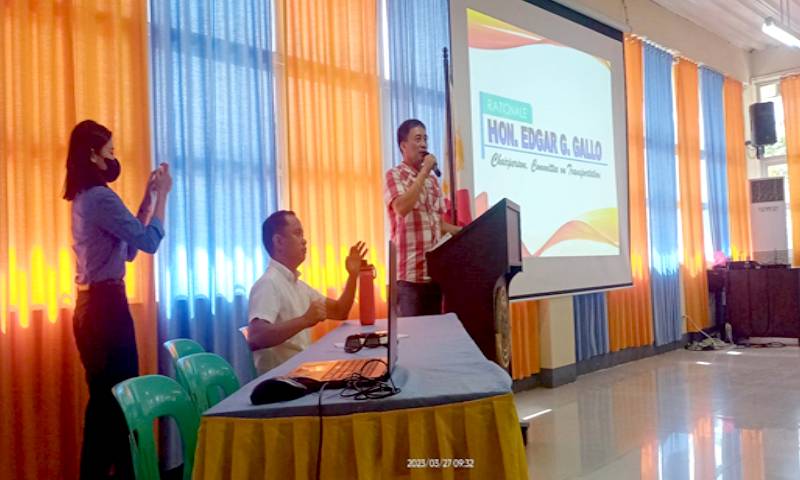 During the opening ceremony, the municipal officials from Buenavista including Municipal Mayor Honorable Samuel T. Gumarin, Vice Mayor Honorable Cyril C. Beltran, SB Member Art Cartel, SB Member Edgar Gallo, SB Member Ruben Magno, and SB Member Rommel John Edang were present. Dr. Margie Y. De La Cruz, Director of Community Extension Services, and Dr. Julieta G. Infante, Vice President for Research, Extension, Training, and Innovation, were also present and they delivered inspirational messages to the participants.
Dr. Arthur C. Soquea, Dean of the CBM, and various CBM faculty members took part as speakers for the training session. Specific topics on saving, budgeting, and investing were discussed on Financial Literacy.
Furthermore, the Customer Service Skills Training sought to help drivers understand their responsibility in providing services to their passengers and to develop their interpersonal skills. Participants were also able to contribute their own input by filling out worksheets and presenting them to the group.
Several participants also shared their response message. One of the drivers expressed his gratitude for the way in which the activity was carried out and how the training gave them a chance to gain skills that would be very useful in their daily search for a source of income. With this learning, they can improve their awareness of road safety, as well as their responsibilities to care their passengers.