On February 8, 2023, extension activities were organized and conducted by two programs from the College of Business and Management (CBM) at East Valencia National High School in East Valencia, Buenavista, Guimaras. The Bachelor of Science in Hospitality Management (BSHM) and the Bachelor of Science in Business Administration (BSBA) collaborated to conduct extension activities based on their respective specialties and skills. They were accompanied by Dr. Margie Y. De La Cruz, Director for Community Extension Services. At least 30 teachers from the aforementioned institution participated in these extension activities.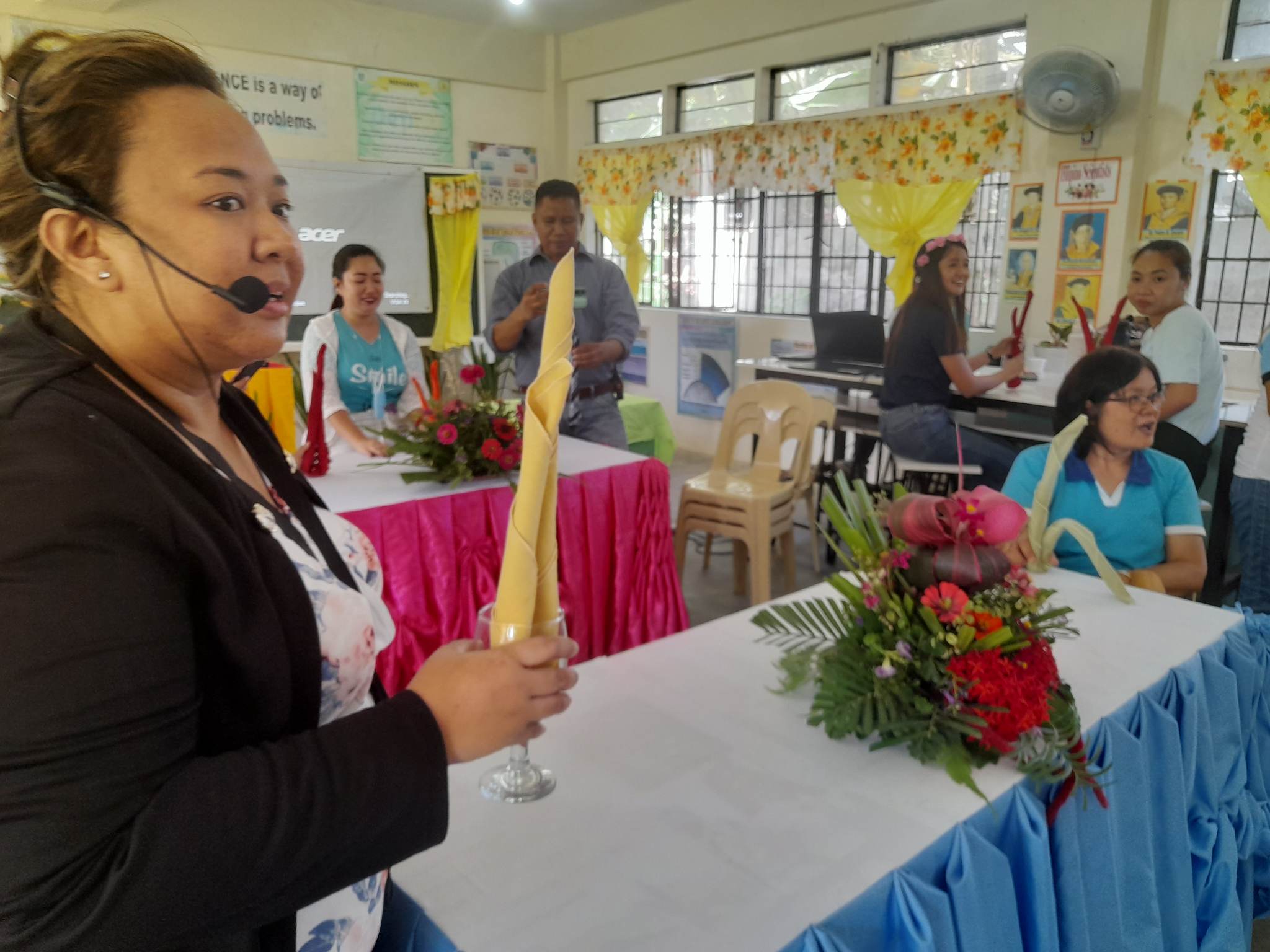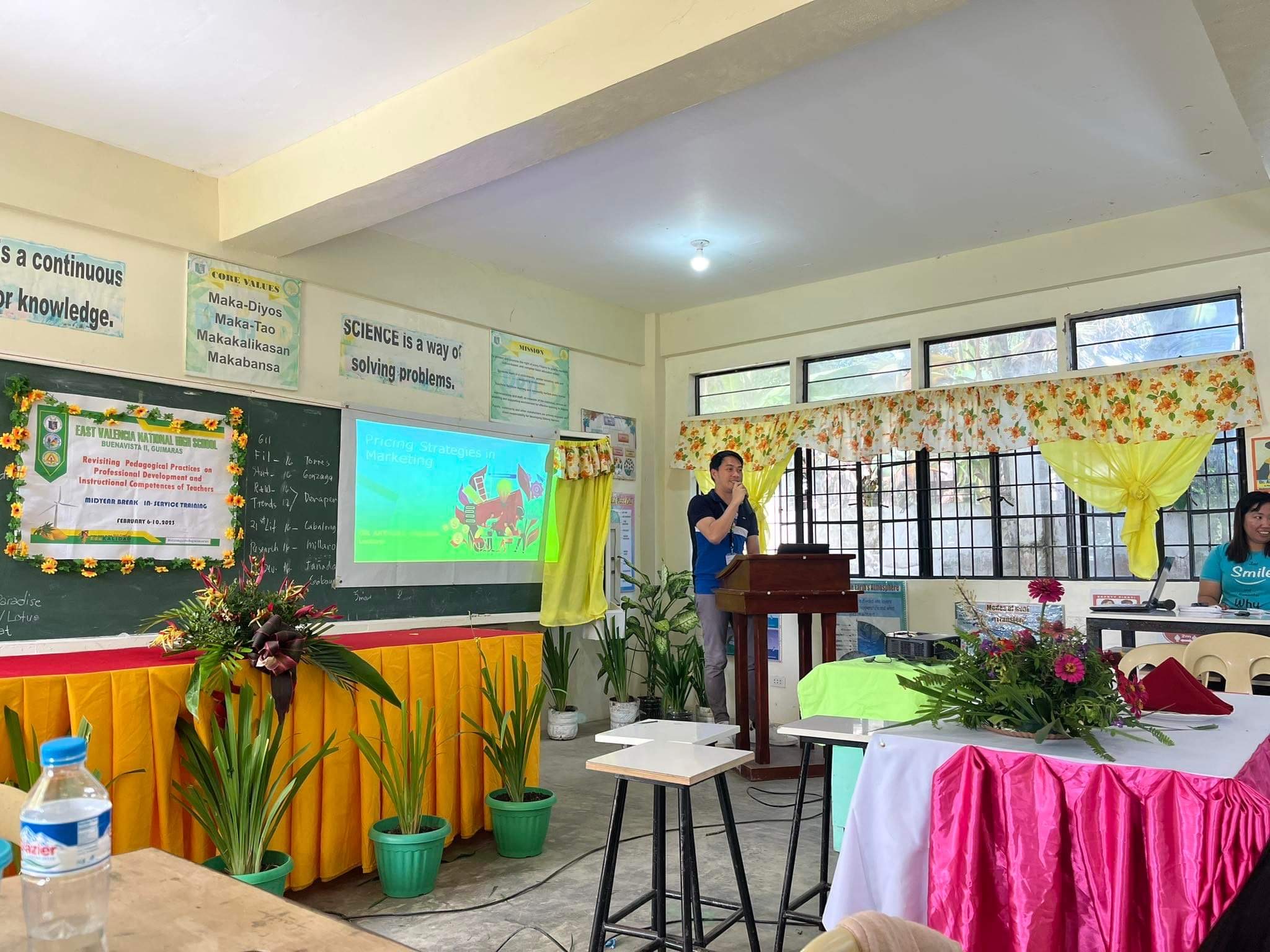 The BSHM Department responded to East Valencia National School's request for an extension activity as part of their content for their In-Service Training (INSET) Activities to emphasize teacher expertise development. The BSHM activity "Hospitality Skills Training on Table Skirting, Table Napkin Folding, and Centerpiece Making" trained East Valencia National High School teachers table and dining setup skills. These fine skills allowed them to focus and be compassionate while also being creative and artistic. Aside from learning this skill, this will allow them to earn extra income by providing such services to the community.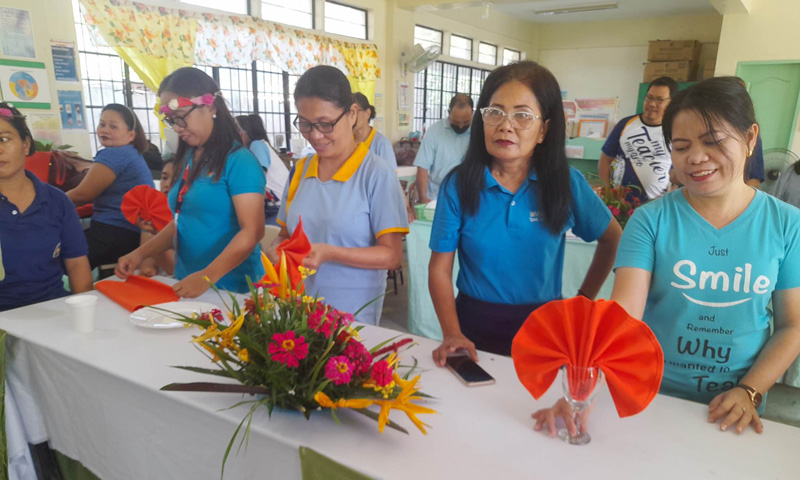 Instr. Maychelle P. Sorongon, BSHM Extension Coordinator and trainer for the above-mentioned activity, explained the necessary skills that teachers must possess in order to benefit from it. If they can master and maintain these skills, they will be able to do so.
On the other hand, another team from the other department were also tapped to give a training on Product Costing and Pricing. They were led by Dr. Arthur C. Soqueña, Dean of the College of Business and Management, who was also the speaker of the said training. Together with him were Instr. Revenlie G. Galapin, Trainer and BSBA Extension Coordinator, Instr. Daisy B. Ibiza, BSBA Research Coordinator, and Instr. Kissy G. Cariaga, BSBA Faculty.
Their activity "Training on Product Costing and Pricing" helped the teachers in determining the right price for their certain products and helped them identify specific expenses incurred in making the product or service that they will sell. The costs of producing their product will determine the price of it and will define the profit to be earned.
Based on the evaluation conducted after the training, the beneficiaries gave an excellent rating and they are also looking forward to more trainings to develop their skills and be benefited both personally and professionally as well as to impact the community.