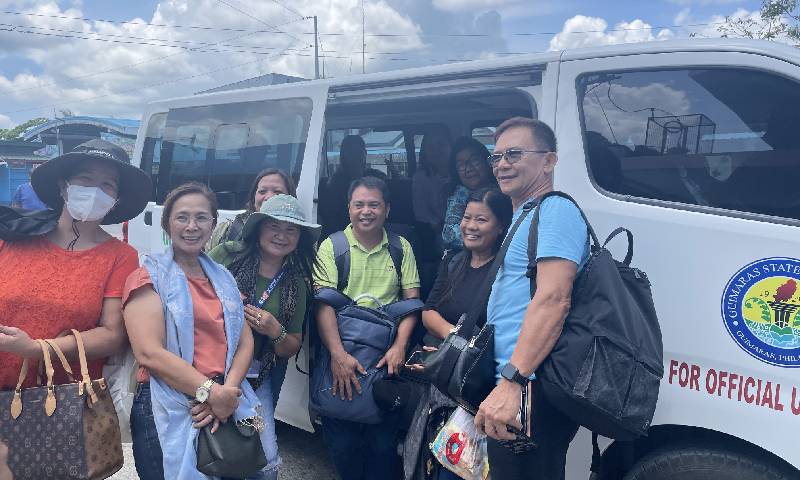 PASUC VI Extension Managers' Council (EMC), Inc. Officers and Board of Directors hold an Extension Research Proposal Presentation, Critiquing with In-house Revision Writeshop, and Planning for Extensionists Capacity Strengthening Activity on May 17-19, 2023.
This event is one of a series of EMC collaborative efforts aimed at doing extension research to better understand the nature, realities, complexities, principles, and practices of extension in Region VI. The results of these extension research studies will be shared with all faculty extensionists through future EMC and SUC extensionist engagement. The outcomes of the extension research outputs will benefit the SUCs in the region since the studies will document extension best practices, highlight areas for improvement, and serve as inputs in the formulation of extension guidelines.
Dr. Lilian Diana B. Parreño, President of Guimaras State University (GSU), greeted the directors at the Buenavista Wharf on their first day, as she had an important business to attend. Then, the extension directors proceeded to GMR for their lunch and workshop proper.
They ate lunch at the Guimaras Mountain Resort before heading to Marceily's Point for their preliminary discussions. They discussed the tasks that they will be performing throughout the activity.
During their trip, they made a quick visit to the famous wind farm at San Lorenzo, Guimaras, and took pictures. They also visited the institution's salt production facility at Cabano, San Lorenzo, Guimaras, where they were welcomed by Instructor Gerald Sheo Thon Gamo, Program Head of the BS Fisheries and Manager of Multi-crop Pond. Their next stop was at the GSU – Baterna Campus, where they were entertained by Instructor Reynro Herrera of the College of Agricultural Sciences (CAgS). They toured the university before heading to Cantua Apartelle in Jordan, Guimaras, where they would be staying.
The extension directors proceeded to Mango Island Cafe on the second day of their workshop to complete their assigned tasks and enhance their research proposals. Dr. Ricky P. Becodo, President of EMC PASUC VI, provided comments and critiques on their assignments and documents. They all loved working while enjoying in the lovely atmosphere of the cafe.
On the last day, they went to the GSU – Mosqueda Campus in Alaguisoc, Jordan, Guimaras, where the Food Innovation Center (FIC) is located. They met Instructor Adrian Alumbro, Program Head of BS Food Technology, where he gave a presentation and overview of the FIC and gave them a chance to talk about some of the technology it offers. The extension directors also had a tour of the establishment's facilities.
The extension directors had a terrific time exploring Guimaras State University's available technologies as well as the island's culture, tourist sites, and tourism. The Guimaras State University is grateful to have hosted this event and at the same time, the institution is introduced to the entire Western Visayas.